What is a PTZ Camera? A Comprehensive Overview

Top 3 PTZ Controller Software
We are always on the lookout for the easiest ways of achieving tasks or activities, with efficiency being the priority. And if you are in the filming industry, you understand how Pan Tilt Zoom (PTZ) cameras have made getting great shots so much easier.
With a pan tilt zoom camera control, one person can achieve operations that would otherwise require a team of camera operators. But how can you learn to control one of these cameras, even if you have no previous experience? This article will take you through 8 simple options.
PTZ cameras are incredibly flexible; they can swivel from left to right, tilt up and down, and zoom in and out. You can program the cameras to move in patterns and automatically scan pre-defined areas for better viewing angles in wide-open spaces that require a 180 or 360-degree view.
PTZ cameras work well with other surveillance systems like fixed cameras, capturing movement and taking still shots. Depending on the model or software, we can set some PTZ cameras to follow motor-triggered activity or a pre-set schedule.
To control these high-tech machines, you need to have preset data. For instance, you can program the cameras to pan, tilt, and zoom in on different areas every 30 seconds. Before, you had to use a PTZ controller joystick hard-wired to the camera. Today, there are several PTZ controllers.
How to Control PTZ Cameras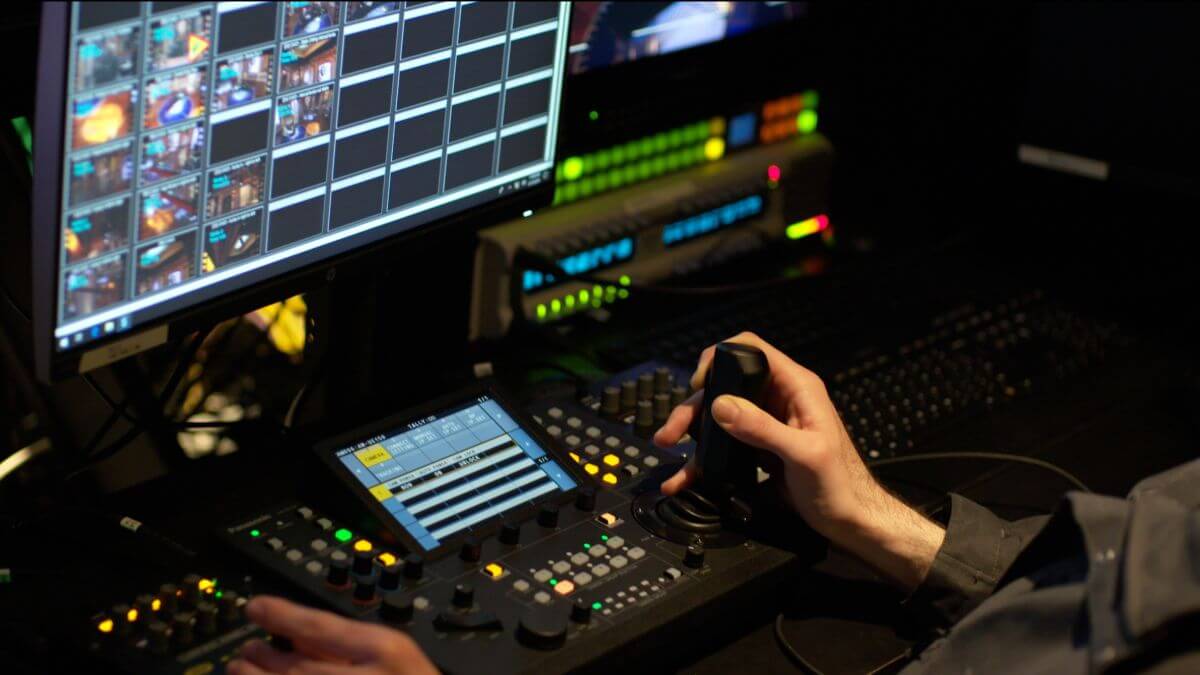 You don't need to constantly pan, tilt, and zoom to capture moving targets with an auto-tracking camera. The cameras monitor the movement of the subject(s) using sensors. However, this automated control system means that the camera doesn't move too far out to any side.
Auto-tracking cameras are good for presentations and capturing teachers, pastors, or people delivering speeches. Generally, the best way to control a PTZ camera is to allow it to control itself, which is why producers love this hands-off control system. You should read the PTZ controller manual if you intend to use the camera for subjects that are moving faster to see if it will serve you well.
The IR remote control works similarly to a TV remote controller, using infrared to control the camera's movement based on your input. You can pan, tilt, and zoom in on subjects at different speeds with the directional arrows.
The remote's hotkeys connect you to four cameras. However, to program the remote to operate up to four cameras, ensure you only have one camera on at a time. The remote controller can't work on multiple cameras simultaneously.
With the PTZ controller, you can access the On-screen Display menu, tweak exposure, white shutter balance, and assign preset positions. To add preset camera positions, set the camera to the place you want it to be and press the preset button on the remote control. Then, assign a number on the keypad to the preset position.
Controlling the PTZ camera remotely can involve using an IP Joystick that allows you to quickly switch between up to 6 cameras and control up to 255 cameras in total. This control method is a bit more advanced than using remote controllers.
The IP Joystick will let you jump back and forth between multiple cameras and adjust their speed. And like its less powerful counterpart, the remote, you can also access the OSD menu quickly and pan, tilt, and zoom the camera. Finally, the IP Joystick works with an Ethernet cable connected to the PTZ camera.
Producers no longer need separate camera operators, with the PTZ camera controls built directly in video production software programs. Software like OBS, Vmix, TriCaster, and MimoLive, lets you control PTZ cameras easily. Each software controller handles camera preset, pan, tilt, and zoom operations differently but with the same efficiency.
PTZ cameras will move back and forth to desired points based on their configuration with just a few mouse clicks. These programs allow small teams to shoot and produce high-quality videos, making them industry favorites.
People use Xbox controllers for controlling a PTZ camera remotely because they are comfortable. The ergonomics of Xbox gamepads make them fit snugly in your palm. Besides, they take up less desk and drawer space.
With the analog buttons on an Xbox controller, you can spin the camera to nearly any angle, not just back and forth. They also let you pan, tilt, zoom, and control camera speed. Finally, PTZ cameras automatically recognize connected Xbox controllers, meaning you won't be wasting time making them compatible.
A cool feature of remote control PTZ cameras is that their app works on Apple and Android devices. The smartphone PTZ app is very responsive and works well in any location for tracking and capturing operations.
You can preset and control up to eight cameras with ease using your smartphone. However, the app is more comfortable on phones with bigger screens. A bonus perk is the live video preview feature on VLC for Android devices.
Using the stream deck for PTZ camera controls requires a web browser, an IP address, and web-based command for the internal PTZ camera control. The stream deck can control optics cameras using http commands and send triggers to the TriCaster. However, the efficiency of this control method differs from camera to camera.
To get a wider range of activities using the stream deck, set up the shortcut key on the stream deck to send http commands directly to the PTZ controller. Creating a shortcut on the Stream Deck allows you to execute any order and feature offered by PTZ Controller.
The TriCaster is slightly different from any other pan tilt zoom camera control; it has eight inputs, and you can control four SDI inputs or four NDI inputs. The joystick will let you manually pan, tilt, and zoom the camera at different speeds. You can also assign preset positions and switch back and forth between them with just a click. Finally, the TriCaster lets you set up macros by pressing a button on the stream deck or any other controller that handles macros.
Video: 10 Ways to control your PTZ camera