Features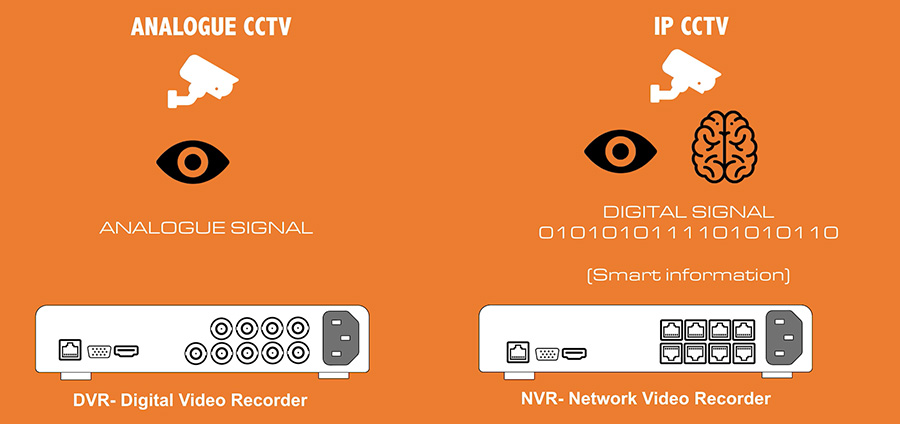 Analog cameras transmit video signals through a coaxial cable or twisted pair wire to a DVR or monitor. They use a standard definition resolution, typically around 480 or 540 lines, and are known for their simplicity and reliability. Analog cameras are also relatively inexpensive and easy to install, making them a popular choice for basic surveillance needs.
IP cameras transmit video signals over an internet protocol (IP) network. They use a high-definition resolution, typically around 720p or 1080p, and are known for their advanced features such as remote access, motion detection, and two-way audio. IP cameras are also more flexible, as they can be integrated with other devices and systems, such as access control and alarm systems.
The biggest difference between IP and analog camera is that IP units provide remote access to live and recorded video footage. This allows users to view their cameras remotely via a web browser or mobile app, making it possible to monitor their property from anywhere in the world.
Another advantage of IP cameras is their ability to be integrated with other devices and systems. For example, an IP unit can be integrated with an access control system to automatically unlock a door when a person is recognized. They can be integrated with alarm systems to trigger an alarm when motion is detected.
However, checking the price difference between analog and IP cameras, we noticed that IPs can be more expensive than analog ones and may require more technical expertise to set up and maintain. They also require a stable internet connection to function properly, which can be an issue in areas with poor internet connectivity.
Analog cameras, however, are a more cost-effective option for basic surveillance needs. They are also easier to install and maintain, as they do not require a network connection. Still, they don't have as many advanced features or as much flexibility as IP cameras, and the video quality is usually not as good.